Treating patients with specific types of cancer, affecting critical areas, without damaging the surrounding tissue can be difficult. Proton Beam Therapy treatment can minimise the damage and, for the past 10 years, the NHS has been sending patients to overseas treatment centres – often in the United States.
Driven by a desire to offer the best care and best experience to as many patients as possible, NHS England tasked Arden & GEM CSU with designing and delivering an eight month procurement process to identify a preferred supplier to deliver a Proton Beam Therapy service.
As a result of close partnership working and extensive clinical engagement, the procurement successfully appointed a new supplier based in Germany under a contract, starting in February 2018. This will enable more patients to be treated while also delivering over £2 million in savings over a three year period.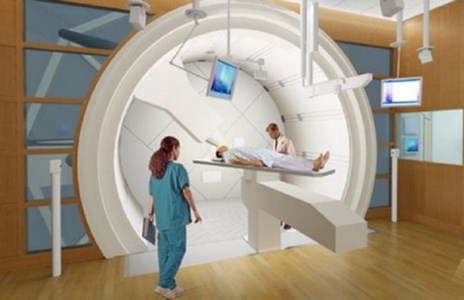 The challenge
Proton Beam Therapy is useful for treating types of cancer that affect critical areas – when it is important to reduce damage to surrounding tissue. For example, brain tumours in young children whose brains are still developing or adult cancers in the optic nerve. These types of cancers make up a very small proportion of all cancer diagnoses.
Since 2008, NHS England has offered this treatment to all clinically appropriate patients through the NHS Proton Beam Programme. As part of this programme, the NHS has sent over 1,000 patients (two thirds of who are paediatric) for overseas treatment, predominantly to the United States. However, this arrangement has limitations in that not all eligible patients are well enough or able to travel and certain clinical indications are not currently commissioned.  
Within England, two Proton Beam Therapy centres are currently being developed in Manchester and London with full service delivery expected by 2022. Alongside this development, NHS England will continue to need to send patients overseas for treatment.
Following extensive engagement with clinical experts, patients and their families, NHS England found clear evidence that a provider was needed closer to home.

Our approach
Arden & GEM has been coordinating procurement support for NHS England directly commissioned services since March 2015. As part of this provision the CSU worked in partnership with the wider Programme Delivery Team to run an eight month procurement process to secure a supplier for Proton Beam Therapy. This service will run alongside the development of two new centres in England to allow the NHS service to increase its clinical expertise and capacity in a safe and controlled manner.
Procurement Process
Given the specialist nature of the treatment, it was important to design a robust procurement process that also encouraged as many bidders as possible from a limited supply base. A single stage ITT open procedure process was chosen.
Market research undertaken indicated that the majority of potential suppliers would be from overseas which meant designing documentation that would enable bidders to clearly quote equivalent accreditations and legislative compliance in meeting relevant qualification requirements. Thirteen organisations registered an interest in the opportunity on the procurement portal, with three bids received.
Market Engagement
Market engagement was conducted via a Soft Market Testing Questionnaire, covering pricing and service model, placed through a Prior Information Notice (PIN). This approach helped to notify potential providers of the forthcoming procurement opportunity and gain an understanding of market capabilities.
Bid Evaluation
In partnership with the client, Arden & GEM convened an expert panel of evaluators including clinicians, quality specialists and finance managers. All evaluators were heavily involved in forming the evaluation criteria ensuring the key elements of the service were met. Evaluation was facilitated via the CSU's online system, using a four stage process, to enable a swift, audited outcome. This ensured easy access for experts with busy schedules.
In order to thoroughly verify the technical and professional ability of potential suppliers, the procurement team – with the support of the client – arranged site visits. This was vital in identifying the quality of the bidder's facilities, processes, procedures and outcomes within the actual care setting. It also offered the opportunity for evaluators to understand how providers would be able to meet the holistic care needs of each patient, in particular children and young people.
To enable the site visits to take place within the context of procurement rules, a consistent and fair process was designed with a clear agenda, directions and outcomes framework provided to the evaluation team.
Designing a mechanism to evaluate pricing was a particular challenge, given the complex and highly individual nature of patient treatment needs. The clinical experts were requested to formulate different scenarios – which were then narrowed down to three – with pricing schedules developed for each. In addition we included a scoring question around pricing assumptions to ensure the proposals were evaluated fairly and on a like for like basis.
Thanks to the vision of the client and the careful planning, engagement and oversight provided by the Arden & GEM team, the procurement was delivered on time with a successful outcome.

The outcomes
The contract was awarded to the preferred bidder for a three year term, with the option to extend for a further two years. This will ensure treatment can continue to be provided until the NHS centres are complete and fully able to meet demand.
The service will be provided, from February 2018, by a centre in Germany which will enable those patients who cannot travel to the United States to be treated. Additionally Proton Beam Therapy can now be offered to patients whose indications couldn't be treated in the United States due to time constraints in the patient pathway.
The new contract is estimated to deliver savings in excess of £2 million, while extending availability of treatment to an additional 25 patients.
"This procurement was an excellent example of partnership working, not only between two NHS organisations, but also across multiple professions. The procurement was efficiently and effectively led by Arden & GEM which enabled full engagement by all involved in the process resulting in an excellent outcome for patients."
Iain Mellis, Proton Beam Therapy Programme Delivery Lead at NHS England
More on this service