NHS 111 receives over 1 million calls each month from members of the public, including daily calls from people with mental health problems. NHS 111 is often the first point of contact for people in a mental health crisis, which requires specialist understanding and knowledge to ensure people get the help they need.
NHS England commissioned NHS Arden & GEM Commissioning Support Unit to develop a mental health e-learning package for NHS 111 call handlers, to enhance existing training. Arden & GEM created a suite of 'Focus on Mental Health' training modules, to help ensure call handlers are well equipped to respond to calls from people requiring mental health support.
After a successful pilot with three 111 providers, the award-winning e-learning package has now been rolled out nationally. There has been an overwhelmingly positive response to the training modules, with call handlers feeling more confident about responding to calls and /trainers noticing real improvements in the way calls are being handled.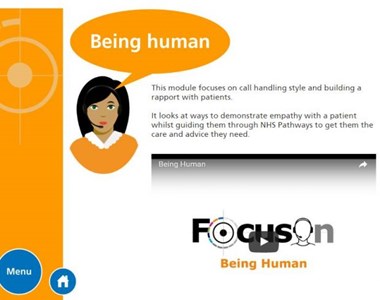 The challenge
When people with mental health related concerns call NHS 111, call handlers need to be able to assess the situation quickly, respond with confidence and compassion and if appropriate, direct people to the most appropriate source of help.
Many people call NHS 111 when they are at a point of crisis, when they do not know who to turn to for help and when they may be at risk of self-harm. With suicide being the highest cause of death in young men and women (aged 20-34) in the UK, a rapid and skilled response is needed when people reach out for help. Calls can be challenging and there are often many complex issues impacting on the patient, such as physical, emotional, family and social difficulties.
Although NHS 111 call handlers receive extensive training for the role, there are particular skills required when responding to people with mental health related concerns. This meant designing training that would give extra insight into handling calls effectively. The training needed to be engaging and easy to access in a busy working environment.

Developing a solution
NHS England set out a number of requirements at the start of the project, which included:
Creating a modular resource, with themed sections, including videos from callers to 111 with lived experience of mental health and peer to peer support from fellow 111 call handlers.
         Ensuring the resource could work in either a group discussion or be accessed individually.
         Making it easy to access, download and navigate through while sat at a desk.
         Being able to promote the resource internally through posters and communications materials.
         An evaluation by the 111 staff at the end of the resource.
         Providing the potential to build into a series of internal communications resources.
Arden & GEM designed an engaging training suite drawing on experience of previous callers, call handlers, clinicians and other stakeholders. Involving people with lived experience of mental health problems was central to our approach. We produced a series of videos, using interviews from callers and call handlers to give the patient perspective and advice from colleagues on handling certain situations.
Our 'Focus on Mental Health' resource, combines videos with written materials divided into short chapters, covering issues ranging from building a rapport with callers and showing empathy, to managing challenging situations, including when callers are at risk of self-harming or are having suicidal thoughts. By combining patient and staff case studies, together with additional supporting information, the module has been designed to give call handlers the tools they need to analyse and interpret situations more appropriately and sensitively, with improved knowledge and understanding.
To help encourage staff to take advantage of the e-learning opportunity, we created supporting communications materials including posters, templates and copy for newsletters and intranets. Focus on Mental Health' was piloted with three 111 provider organisations before being rolled out nationally.

The outcomes
Feedback from the pilot site 111 teams – in the form of focus groups and online questionnaires – shows that 97% of respondents found the resource helpful when thinking about dealing with callers with mental health related problems. Forty-five percent of respondents said they had already been able to apply the learning from the training. All of the face to face group participants said that it had made them reflect on past calls as well as think about how they will handle mental health related calls in the future. All research respondents said they would like to see more similar resources made available.
Trainers have also reported improvements in the way calls are being handled where 111 staff are applying knowledge gained from the e-learning and responding with greater confidence and competence.
The format of the training has been particularly well received. Call handlers felt the videos were extremely effective as a way to understand different perspectives and enjoyed the fresh look and visually engaging approach. In a time-pressured environment, the concise e-learning package allows staff to access the training in bite-sized chunks and complements existing resources such as the NHS Pathways consolidations pack.
"We wanted to offer an engaging e-learning resource to staff to enhance existing training, so that they have the specific skills to deal with calls in the most sensitive and effective way. We've enjoyed working with the Arden & GEM team and have had very positive feedback on the resource so far."  
Jeff O'Connell, Senior Project Manager at NHS Digital
Arden & GEM's 'Focus on Mental Health' training package won the Best Internal Communications category at the Association of Healthcare Communications & Marketing (AHCM) Awards in March 2017.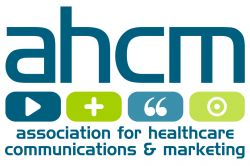 The judges said the entry, "showed a well thought-out, creative campaign, using insight from people with mental ill health and peer-to-peer experiences, to meet the challenge of supporting call operators when responding to mental health calls". 


More on this service