NHS Warwickshire North Clinical Commissioning Group (CCG) identified that an increasing number of people were bypassing primary care and instead attending Accident and Emergency (A&E) services in the area.
NHS Arden & GEM CSU worked with the CCG and George Eliot Hospital NHS Trust to lead a project which has transformed urgent and emergency care services. Six months into the change, the number of A&E attendees managed through the urgent care centre has now reached 31%.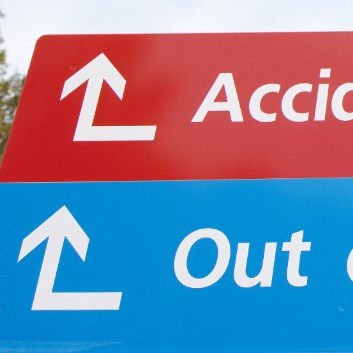 The challenge
The Keogh Review (2013) set out the national challenges for urgent and emergency care, with many areas facing unsustainable increases in demand. The report identified system wide transformation as the way in which to meet this increasing demand, with a particular focus on self-care and highly responsive, joined up urgent care services.
Within North Warwickshire, a growing population living with comorbidities has led to a greater dependence on health and social care, with an increasing number of people attending A&E who could have accessed other local services. This inefficiency represents a significant cost given estimates suggest that a visit to A&E costs at least three times that of a GP visit.
Findings from the Royal College of Emergency Medicine identified that primary care centres, co-located with emergency services, can manage between 15 and 30% of the current A&E workload. This was reinforced by an audit of people attending the local A&E.

Our approach
The NHS Arden & GEM CSU transformation team deployed a programme lead to bring together the CCG and George Eliot NHS Trust with other key stakeholders, including primary care, West Midlands Ambulance Service, Warwickshire County Council and South Warwickshire NHS Foundation Trust.
By working collaboratively, with providers and through a facilitated workshop, the programme team was able to agree a new model for urgent and emergency care services that would reduce A&E attendances and related admissions while improving patient satisfaction.
To achieve this, the programme has gone beyond redesigning urgent and emergency care at George Eliot, and also includes the following areas of work:
Supporting self-care
Reducing ambulance conveyances to hospital
Improving out of hospital services
Redesigning community services
Improving access to primary care.

The outcomes
The new urgent and emergency care pilot began in October 2014 and over the first six months was able to move an increasing percentage of A&E attendees through the model. Over the winter period, the number of people managed through the urgent care centre has risen to 31%. The model continues to be refined with a vision to create a frailty service at the front door.  

More on this service