For people with a disability or health issue, being in work can help improve condition management, independence, support networks and general health and wellbeing.
In order to support 3,300 people, throughout the West Midlands, to find employment; health and care organisations are collaborating on a ground-breaking randomised controlled trial – the 'Thrive into Work' programme.
Arden & GEM's procurement team was tasked with finding providers for the programme, who could support individuals across this broad geography. The CSU designed and delivered the full procurement on behalf of a large group of stakeholders in just four months. Contracts worth £6.8m were successfully awarded and the new service, which went live in July 2018, has already engaged with more than 1,500 participants.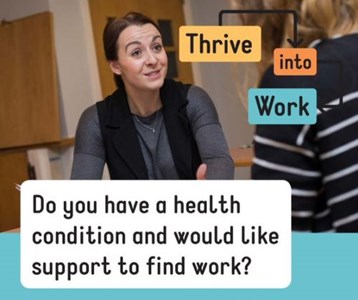 The challenge
Despite general unemployment falling in the West Midlands, unemployment among people with health conditions is rising in each local authority area. There are at least 125,000 people in the West Midlands who are out of work with a disability or health issue. Appropriate and fulfilling work can help people to:
The West Midlands Combined Authority (WMCA), NHS England, the Department of Work and Pensions, and the Department of Health are collaborating on 'Thrive into Work' – a ground-breaking randomised controlled trial to test the impact of a new employment service for people with a mental health and/or physical health condition in primary and community care.
The trial aims to find out how good the new service is at delivering transformational improvement in employment, health and wellbeing outcomes for people out of work, with a self-defined long-term health condition or disability.
NHS Wolverhampton CCG was charged, on behalf of the WMCA, with hosting a procurement for the new Individual Placement and Support (IPS) employment service. To ensure the service was operational within the required timescales, the entire procurement process needed to be completed in just four months.
Our approach
Arden & GEM has been providing procurement support for CCGs in the West Midlands since April 2016. As a result of this experience, the CSU was approached by Wolverhampton CCG to lead and manage the procurement on their behalf.
Engaging with stakeholders
With a range of national and local organisations involved (including Wolverhampton, Dudley, Sandwell and West Birmingham, and South Central Birmingham CGGs) it was important to identify and engage with stakeholders at the outset to clearly determine governance, accountability and reporting arrangements. Additionally, it was key to quickly develop a relationship with Social Finance, the not-for-profit group delivering the programme management office (PMO) function for the project.
Managing market interest
Initial market analysis suggested that no one provider could cover the entire geographic area, so a lot approach was developed. This opened up the opportunity to a large number of potential providers. Market engagement events had over 100 representatives in attendance and innovative use of technology was made to live stream the events over twitter, widening access to as many potential providers as possible.
Evaluating bids
Evaluating six bids across the four lots required input from a range of subject matter experts, as well as key leads from the CCGs. As a provider of the full range of commissioning support services, Arden & GEM was able to bring in experts in information governance, finance, HR, communications, and equality and diversity to support development of the service specification and to evaluate bid responses. This approach enabled the process to be completed quickly, robustly and with minimal impact on the workload of the commissioner.
The outcomes 
The contract, worth £6.8m over 2½ years, was successfully awarded to three different providers. The procurement was completed within four months, which was vital to enable the pilot to collect enough data by the agreed completion date of March 2020.
By utilising a lot approach and tight service specification, providers were identified to cover separate geographies without compromising the methodology of the randomised controlled trial – the first and largest trial in the world to test this approach.
Since going live, in July 2018, more than 1,500 people have engaged with the trial, with over 140 people already supported into employment.
The programme aims to provide a service to 3,300 people over the next two years, with an overall target of achieving 1,000 jobs. A full evaluation of the trial will take place in spring 2020 and a decision about the future of this programme, and the rollout of others, made. 
This procurement programme is a finalist at the UK National GO Public Procurement Awards 2019/20 in the 'Social and Community and Social Benefit in Procurement' category.