Following the Winterbourne Review, NHS Arden & GEM Commissioning Support Unit (CSU) worked with Clinical Commissioning Groups (CCGs) to deliver the immediate actions in the report but also recognised the need for a more in-depth look at how services are commissioned and delivered.
We designed and delivered an 'accelerated learning event' which brought together local authorities, mental health charities and other stakeholders to develop a long-term strategy to improve services for people with learning disabilities.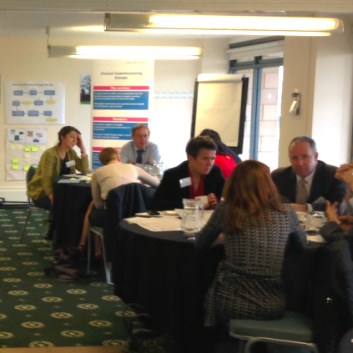 The problem
Following the serious neglect and abuse of adult patients with learning disabilities and autism at the Winterbourne View hospital in South Gloucestershire, the Department of Health's 'Transforming Care' report identified a series of national actions to transform services and improve support and care. NHS Arden & GEM CSU worked with CCGs in Coventry and Warwickshire to deliver those actions immediately through a dedicated steering group. We also recognised the need for a strategy to improve partnership working and improve services in the longer term.

Designing and implementing the solution
We designed, developed and ran a full day 'accelerated learning event' for CCGs, local authorities and other stakeholders to begin developing the strategy. The facilitated sessions considered in detail what good service looked like, using examples from outside the health sector, and encouraged participants to discuss and vote on key priorities for service development and improvement. 
Once priorities were agreed, the group looked at: what was needed to achieve the agreed objectives, current strengths and weaknesses, barriers to change and priority actions to take things forward. This was broken down into specific tasks which were assigned to the relevant individuals along with an agreed deadline.
The result was a clear, focused set of objectives and actions, which underlined a shared commitment across organisations to work together to improve services. These included:
 Reducing length of stay and reliance on inpatient care 
 Moving people closer to home 
 Developing the local community market 
 Developing a sub-regional plan to address the needs of children and adults with complex needs 
 Joining up the assessment of need with health and social care.
"The day was very productive and enabled us to scope what the services for those with learning difficulties look and feel like. Going forward we know that we'll have greater clarity of who is responsible for each element and be able to share this knowledge across all of our organisations."
Sally Eason, Associate, NHS Arden & GEM CSU 

Comments from the participants included:
"Excellent wide ranging discussion. Well-paced and very good facilitating." 
"Great to have health and social care, commissioners and providers together." 
"Good interactive sessions allowed in depth debate and solution focus." 
"Enjoyed day – lots of joint learning and work." 
"Useful format to start thinking outside the box." 

The results
The outputs from the event were used to create a joint strategic plan, endorsed by the local Health and Wellbeing Boards, for the transformation of services. This included engagement with key user and carer groups as part of a co-production approach. Following development of the plan, NHS Arden & GEM CSU has continued to play a key role in:
Managing the relationships between key strategic commissioners
Using transformational change expertise to advise commissioners on best practice principles and governance arrangements
Facilitating further events to accelerate progress of key components.
All three CCGs and the local councils have formed a Learning Disability Commissioners Group. Working across the health and social care economy, the group specifically oversees progress against the joint strategic plan and more broadly, work across learning disabilities, reporting into the Joint Commissioning Boards for Warwickshire and Coventry. 
In addition, a Winterbourne Clinical Review Group has been established to oversee the progress of individual placements and to facilitate the discharge of the remaining CCG registered inpatients. 
Our service redesign team has also worked with Coventry and Warwickshire Partnership Trust to implement a successful mental health repatriation programme. The team's remit was expanded in April 2014 to cover learning disabilities and an additional specialist nurse was recruited. Individuals in out of area residential placements will be repatriated, where appropriate, as soon as practically possible.

Moving forward
Building on the results achieved so far, NHS Arden & GEM CSU is now running a series of practitioner workshops to develop a business case for a new model of learning disability care with the aim of phasing out inpatient assessment and treatment beds.
We are exploring local case studies and reviewing best practice from other areas to highlight which new services would be required in order to realise this aim.
Recognising the challenge in the local market to support our most vulnerable people, we commissioned an independent study. Warwick University will review incentives for providers – for people with learning disabilities – to help inform engagement and develop a different working relationship.
External experts and representatives of the local Learning Disability Partnership Board are providing a confirm and challenge on our emerging options.

More on this service