Almost 1 in 5 mums-to-be in Derbyshire smoke through pregnancy with considerable health risks for both mother and baby. Erewash Clinical Commissioning Group (CCG) recruited NHS Arden & GEM CSU to deliver a social marketing campaign to bring about behaviour change which would feed into a long term strategy to reduce the number of women smoking at the time of delivery.
The highly innovative Love Bump campaign ran for 12 months and successfully delivered messages to target audiences, reaching thousands of local people across multiple channels, with animations alone watched more than 75,000 times.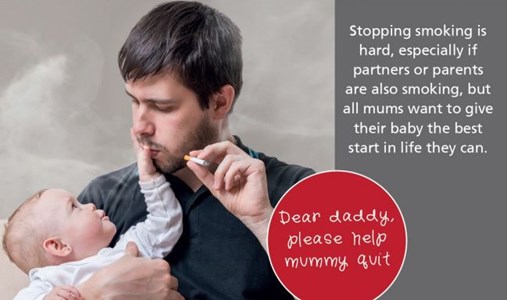 The challenge
With 4,000 chemicals present in every cigarette, smoking in pregnancy has clear and significant health risks for both mother and baby. Helping pregnant women to stop smoking:
Reduces the risk of complications in pregnancy and birth
Reduces the risk of stillbirth
Reduces the risk of premature birth, and the associated breathing, feeding and health problems
Reduces the likelihood of a baby being born underweight
Reduces the risk of sudden infant death syndrome
Reduces the likelihood of children developing asthma and other serious illnesses later in life.
Erewash CCG recruited Arden & GEM's award winning social marketing team to deliver a behaviour change campaign targeting women smoking in pregnancy. With almost 1 in 5 mums-to-be in Derbyshire smoking through  pregnancy, the campaign was designed to feed into a long term strategy in order to increase use of the stop smoking service and to reduce the number of women smoking at the time of delivery.

Our approach
Our social marketing team used their proven three step approach to behaviour change to deliver a multi-faceted campaign:
Research and issues scoping
Developing and implementing a tailored campaign
Evaluation and tracking behaviours.
Research and issues scoping
We worked closely with the client to deliver the research and insight required to develop an effective social marketing strategy. This included fully understanding the target demographic, as well as undertaking a journey and stakeholder mapping exercise – across the whole local health and social care system – to identify both key touchpoints and key influencers. 
We then collaboratively set objectives and metrics for reducing the number of woman smoking in pregnancy and increasing the number receiving an intervention from smoking cessation services.
Developing and implementing a tailored campaign
A consistent visual identity was created for the campaign that would run through all marketing and communications activities. Our in-house design team developed the innovative 'Love Bump' brand and then effectively applied across: posters, postcards, infographics, fact sheets, leaflets, stickers and video animations. Our strategy and design executions were also tested with mothers prior to launch.
In order to effectively deliver campaign messages to target audiences, a range of channels were used:
Website – a dedicated Love Bump microsite launched based on visuals from posters and embedded animations. This was promoted via the CCG website and all other marketing collateral.
Animation – three animations were produced and distributed using a range of digital media to demonstrate the impact of smoking on the health of mother and baby.
Social media – in addition to localised campaign posts utilising Erewash CCG social media accounts, dedicated Love Bump accounts were created in Twitter, Facebook and YouTube.
Public relations – to promote the overarching Love Bump campaign (and specific activities) a series of press releases were used to obtain press and radio interview coverage with regional media outlets.
Community events – four outreach sessions were delivered across the area at family friendly events with a high footfall of our target audience.
Professional resources – stakeholder newsletters and support materials were also created for midwives, Public Health and the local Stop Smoking Service.


The outcomes
Marketing outcomes: The campaign has successfully reached target audiences with:
135,462 Twitter impressions generated
A reach of 14,528 on Facebook
Over 75,000 views for the animations across Facebook and YouTube
Region wide press coverage obtained in the Ilkeston Advertiser reaching 7,874 readers
Over 250 women engaged via outreach events.
Behavioural outcomes: By working closely with midwifery professionals we were able to increase their understanding of the importance of capturing accurate data, as well as increase their confidence in asking questions about smoking. As a result the number of women whose smoking in pregnancy status was 'unknown' has been reduced from 4% to 2%.
"We knew that if were to have a positive impact on reducing the number of mums smoking in pregnancy, that we would need to run a campaign that really sought to understand the barriers women experienced in quitting and what would motivate them to make a change. This would also be essential in getting midwives on board.
The approach designed by Arden & GEM was based on thorough research and, as a result, the campaign materials were impactful and engaging. Through innovative use of both digital and face-to-face channels we have been able to reach our target audience and have a strong base to build on."
Kate Burley, Service Improvement Manager for Children's Commissioning at Erewash CCG
More on this service