As part of its plan to allocate additional funds to transform mental health and eating disorder services for young people, NHS England appointed NHS Arden & GEM CSU to provide assurance support across the Midlands and East region.
The CSU's transformation team designed, planned and facilitated a three month process that successfully assured 24 local transformation plans put forward by more than 60 Clinical Commissioning Groups (CCGs).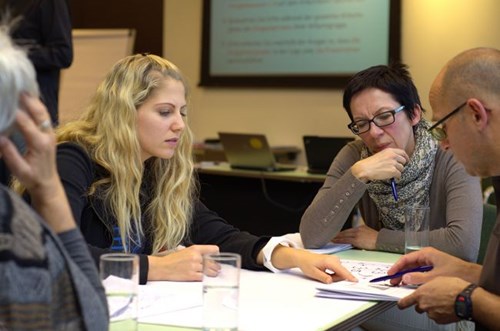 The challenge
As part of its strategic vision, NHS England aims to close the health and wellbeing gap and secure sustainable improvements in children and young people's mental health outcomes by 2020. To achieve this, additional funding of £30 million per year has already been allocated for the transformation of services to treat young people with eating disorders.
Further investment has been prioritised for those areas that can demonstrate robust transformation plans, for children and young people's mental health and wellbeing services, that are well developed and clearly articulate the local offer.
With a total of 24 local transformation plans received for the Midlands and East region, NHS England needed assurance support to ensure plans were sufficiently developed to inform children and adolescent mental health strategies and commissioning, thereby securing the delivery of service transformation.

Our approach
In order to assure that local transformation plans were robust and thorough before NHS England allocated additional funding, Arden & GEM CSU provided a full assurance support service to NHS England for plans submitted by CCGs in the Midlands and East.
Over a three month period, the service transformation team managed a process which included:
Designing the assurance templates and evaluation criteria
Reviewing 24 local transformation plans, including subject matter expert review
Planning and facilitating a Moderation Panel day
Summarising and presenting the outcome of each plan to NHS England, including guidance on areas for improvement.
In order to ensure clear communication between a wide range of stakeholders both teleconferences and workshops were arranged which also enabled creative problem solving as the project progressed.
In designing the documentation, the Arden & GEM team paid particular attention to ensuring that the best possible use was made of the twelve identified subject matter expert's time.
This included providing a 'navigation tool' and key questions for experts, and running a robust filter process where any major gaps or inaccurate authorisation could be identified and rectified in advance.
To specifically support CCGs who would have to resubmit their plans, the team also provided feedback and guidance on areas for improvement.

The outcomes
Following the assurance programme, more than 60 CCGs in the Midlands and East region have been supported to access a total of more than £22 million to fund their local transformation plans.
Where CCG plans didn't meet the full assurance criteria first time around, they were able to use the comprehensive written feedback provided so that all plans were successfully assured within the national programme timeframe.
"The Arden & GEM team recognised the need for excellent communication and remained focussed on solutions and good outcomes, with an end result of all local transformation plans being assured and deadlines being met."
Joanna Yellon, Head of Assurance, Operations & Delivery, NHS England

More about this service