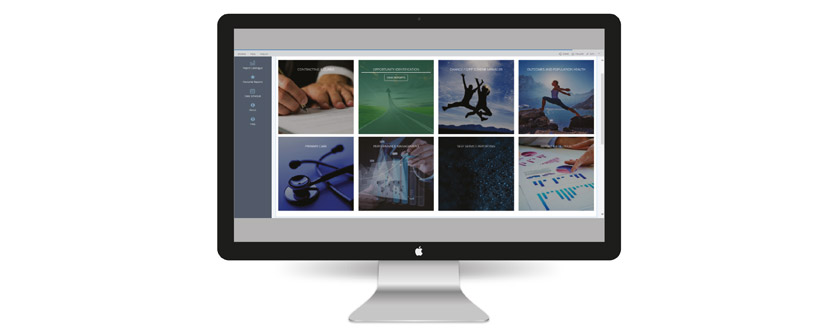 Our bespoke, user-friendly business information system, GEMIMA, is one of the most advanced tools available to support, analyse and monitor health and social care commissioning. Created by the NHS, for the NHS, GEMIMA brings together disparate national and local data sets, transforming reporting methods and helping you make more informed commissioning decisions.

GEMIMA is made up of four main components:

The Portal layer, a single point of access, providing role-based data access that provides intuitive and secure access to the data and information you need.

The Application and Reporting layer, providing a one-stop solution for all analytical, reporting and data needs, avoiding the need to purchase separate products for risk stratification, contract monitoring and benchmarking.

Data Management layer, ensuring the data you need can be trusted and is available in a single version for reporting purposes.

Data governance including DSCRO (Data Services for Commissioners Regional Office) and ASH (Accredited Safe Haven), the necessary processes, authorisations and environments which ensure your data is safe and compliant with Information Governance (IG) rules and regulations.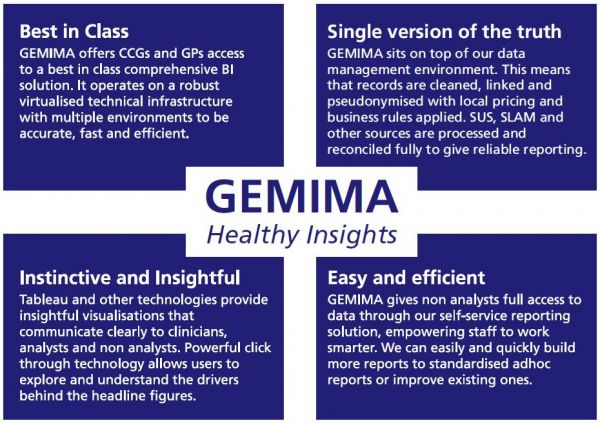 We bring:
A suite of fully integrated reports, brought together in an intuitive portal that gives ICBs and GPs access to a wealth of information to drive informed decision-making. Reports are categorised into sections for easy access, including a personalised 'favourites' section for regularly used reports.

A secure and fully compliant tool designed for busy clinicians, NHS and social care professionals. Relevant reports are automatically loaded according to your user profile information.

Access to a range of customisable reports based on common themes such as QIPP, Primary Care and Performance Management.

Flexibility which enables users to tailor reports to their individual needs, including benchmarking ICBs or GP practices against national and regional comparators, and tracking the performance of  local providers.

Additional functionality for GPs, including 'urgent care dashboards', 'prospective outpatients' and  'patients currently admitted', all based on real time data.

Ability for GPs to drill down to identifiable patient level data to monitor individual pathways and support patient liaison to reduce hospital admissions and improve patient care.

Actionable insights, drawing on best practice analytical approaches alongside the implementation of market leading analytical tool, Tableau.

Prescribing analysis which triangulates Electronic Prescribing Analysis and Cost (ePACT) data with other datasets such as hospital admissions, QOF and NHS England Medicines Optimisation Dashboard. The resulting analysis identifies variations to help drive changes in prescribing behaviour and improve patient outcomes.

Contracting reports, including an at-a-glance actual acute year on year variance report, supporting the early identification of local issues.

Comprehensive support provided by our in-house team, including technical help and training to ensure you gain maximum benefit from GEMIMA.

Benefits:
We firmly believe that robust control over data management is essential to the delivery of a leading edge Business Intelligence service. We continually invest in the development and improvement of GEMIMA to maintain a best in class service for our clients.
Our data is structured to provide support to meet the needs of a range of potential health and social care organisations.
We do more than just provide the data. Unlike many other CSUs, we load detailed SUS and SLAM for all providers and fully process and reconcile the information at record level, reducing the amount of time you need to spend on analysing and interpreting raw data.
GEMIMA is built on data you can trust. Our system is structured to ensure that the data is the same wherever it is accessed from and that we can trace and verify the source of all information.